Gillentine Wetland Mitigation – 5 acre Wetland/Pond Project
Midland Atlantic Properties
Muncie, Indiana
CSG is playing a key role in the mitigation of several large wetlands across the Indiana landscape. Of note is the recent 5-acre wetland mitigation constructed in a pasture area in Central Indiana.
CSG had worked on several projects with Midland Atlantic and this was their first wetland permit. The site was located on a nearby pasture area owned by a local farmer in the same 8-digit HUC watershed. The site contained low-lying ground with tile drainage that could easily be converted to wetland conditions. In addition, the landowner was interested in restoring a natural area with a pond feature.
Once the site was chosen, CSG worked with regulators for acceptance of the site as an appropriate mitigation area to satisfy the needs of the permit sought by Midland Atlantic. Midland contracted CSG to design the wetland mitigation and acquire the permits, including Rule 5 Erosion Control Permits and erosion inspections.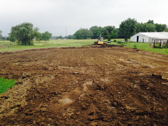 With the proper permits in hand, CSG set out to build the wetland and associated pond. Excavators moved earth and broke field tiles. Hundreds of containerized wetland trees were installed in the forested wetland area along with seeds that were no-till drilled into the seed bed. To accomplish this, CSG utilized large earthmoving equipment, no-till drills, tree planters, and plain old manual labor to install the wetland plants. Additionally, CSG excavated a 0.75-acre pond attached to the wetland.
The wetland was completed in time for the spring/summer rains. CSG will begin the wetland monitoring portion of this project to track the progress for the next several years.