Jay County Landfill Stream Mitigation
— Redkey, Jay County, Indiana
Civil Site Group (CSG) was retained by Jay County Landfill to assist with their stream mitigation activities. The landfill was running out of space to dispose of trash and needed to expand to the west to create more solid waste cells. CSG helped the landfill with their stream and wetland mitigation needs.
Before monitoring of the stream and wetlands, CSG installed native containerized trees in a riparian buffer of over 12,000 linear feet of stream corridor as per Army Corps of Engineers permit specifications. The project was successful and the landfill is now in compliance with the 404/401 permit conditions.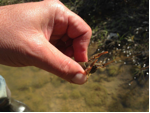 In addition, CSG conducted stream assessment activities on the landfill portion of the stream mitigation and downstream to the next receiving stream due to regulators' concerns of possible contamination. CSG was able to determine that no downstream degradation of the biota had occurred related to landfill activities.