BOOMERANG DEVELOPMENT – Mercho Property
Cicero, Indiana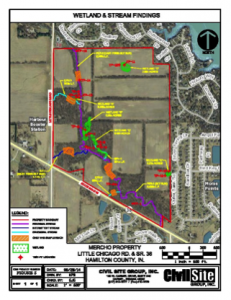 CSG performed a wetland delineation for a 190-acre site near Cicero, Indiana where a residential development has been planned.
The wetland and stream delineation included several intermittent and ephemeral streams, emergent wetlands and forested wetlands including QHEI/HHEI and connectivity analysis to meet the specialized Indiana permitting requirements.
In performing these tasks, CSG compiled extensive 401/404 permit documents that included both on and off-site mitigation options and proposed them to the regulatory bodies.
In addition, CSG inspected the property for potential Indiana Bat Habitat as requested by the regulatory agencies.